Recently, when reading a newspaper, an advertisement caught the attention of a reporter of Commercial Auto News. This advertising campaign targeted school buses, but the advertisements did not highlight the school bus. Instead, several "monks" who resorted to different moves put a schoolboy in the middle to protect it; interestingly, in the later advertisements, The "monk" was replaced by a "special police officer" armed with live ammunition. The advertisements for the two advertisements are: Safe escort your favorite big man. Comparing primary school students to "big people", the safety features of school buses are presented through "monks" and "special police officers". This is different from commercial advertisements of "product advertisement words" and people are very much looking forward to this series. Advertising next ideas.
"There are not many companies in the commercial vehicle industry that can truly reflect culture, so if people are different, they will leave a deep impression on people," said a truck company official.
Bold vision for careful verification

From the current domestic commercial vehicle advertisements released, there are fewer creative advertisements, and there is a lack of planned advertising. Some flat commercial vehicle advertising image teams have keywords like engine, tires, and airbags lined up as small commodities, lacking imagination and creativity. Some online TV commercials only saw one truck running away. I do not know what to do, no taste. The original meaning of advertising is communication, but creativity is the soul. Without the soul, advertising will be overshadowed.
Good commercial vehicle advertisements can strengthen the confidence of users in buying cars. To achieve this, companies must pay attention to the uniqueness of advertising. Advertising planning is a process. This process depends on advertising creativity. The results of advertising creativity are both reasonable and often surprising. The planning and creativity of commercial advertising is a process of "bold vision and careful verification". It can be imagined in the planning of advertisements, and it must be meticulous in the creativity of advertisements so as to win the attention of more users.
However, a good advertisement may seem like a godsend, but its production process is not easy. At present, most of the commercial vehicles are advertised by specialized advertising companies, and a small part is produced by the car company's own advertising team. When designing an advertisement, several factors such as cost, content, and creativity are often considered. Commercial vehicle advertising is mainly based on the plane. How to express the uniqueness, creativity, and novelty of commercial vehicle advertising under the restrictions of print advertising is a problem that commercial vehicle advertising designers focus on.
Regardless of the traditional media or online communication, advertisements provide consumers with very convenient shopping guides. In the current era of convenient information, if advertising is stereotyped and lacks new ideas, business opportunities will be delayed. Advertisements have risen from the previous so-called "media wars" and "investment wars" to the competition of advertising ideas. The person in charge of the Ankai bus told reporters: "We will design different advertising themes according to different models, and increase the intensity of communication with new product tours. Due to the impact of multiple factors such as energy shortage and environmental protection, Ankai will promote new energy this year. Bus, for this purpose, Ankai launched the 'Beautiful China Line' event, designed specifically for high-end, atmospheric, beautiful advertisements. The advertisements are landscaped and green in order to allow more people to experience Ankai in the beautiful scenery. Passenger cars are green and different."
The effectiveness of advertising and dissemination of commercial vehicles depends on the feedback of commercial vehicle users. The reporter learned that commercial vehicle users believe that some car companies advertise themselves too much. Car companies are bragging about their products in advertisements. Such advertisements will not arouse consumers' interest. It is not exaggerating and content, diluting commercial traces, and having credibility on the content before it can find the real needs of users. A user told reporters: "Some commercial vehicle advertisements can guide users to make accurate choices and purchase the products they want. However, some advertisements are not only untrue, but they are disgusting."
Accurately serve more with less

The image and brand of a company determine the position of the company and its products in the minds of consumers. This status usually depends on the strength of the company and its advertising strategy to shape and maintain. The creation and maintenance of commercial vehicle brands cannot be separated from advertising and dissemination. Commercial vehicles have high value-added characteristics compared to other commodities, making commercial vehicle advertising transmission mode different from other ordinary products.
Commercial vehicle advertisements are put on different media and have different communication effects. If commercial vehicle advertisements are in the form of billboards, they can highlight the unique momentum of the vehicle. Billboards embellish the city and attract people's attention. They are flexible, repetitive, and low-cost. However, they have narrow communication surfaces and small information capacity. TV and online media can express their distinctive models and dynamic performance, as well as audio-visual effects, and use sound, images, and actions to communicate. Newspapers and periodicals can describe in detail the fuel consumption, engine displacement, and related configurations of vehicles. They have lower advertising costs, have a longer advertisement transmission time, can be repeatedly used, achieve multiple transmissions, have certain stability, and have a long time of attention. segment.
The reporter learned from the interviews with major companies that most companies chose paper media and online media as their main means of communication. Because the target user groups in the commercial vehicle market are mainly concentrated in a few industries, and the number is small and concentrated, the choice of media must consider the degree of coincidence between the media audience and the target user, and examine the effective information arrival rate. The spread of television broadcasters has a large and wide audience and wastes corporate costs and resources. And more companies believe that the most effective means of transmission is those niche media. Newspaper advertisements and magazine advertisements have strong brand-building capabilities due to their wide audience, large circulation, and high credibility. They have low costs and long propagation times. Through the most direct expression in the newspapers, with activities and exhibitions, they really spend their money on cutting edge, more efficient and more direct completion of the company's brand communication and shaping work.
Scientific assessment of harvesting effectiveness

With the increasingly fierce competition in the commercial vehicle market, companies need to continue to use advertising and other means to improve and stabilize their position in the minds of consumers, and suppress competitors. However, inappropriate advertising will not only help companies improve their image but will have the opposite effect. Some companies invest tens of thousands of advertising fees each year to achieve the purpose of improving their image and promoting sales. How do consumers see the company and its advertising? To understand this, companies must regularly evaluate their advertising effectiveness.
However, the reporter learned during the actual interview that very few companies will specifically evaluate the effectiveness of advertising. Most car companies will conduct small-scale evaluations based on internal group meetings and information feedback from some important users, but almost never Doing a large-scale special investigation, which makes it difficult for companies to know how effective the investment in heavy investment.
In response to the current status of commercial vehicle advertising, car companies must scientifically evaluate the effectiveness of advertising, evaluate the effectiveness of advertising must be based on the end user, the end user as the core, a reasonable assessment of the effectiveness of advertising can make car companies avoid flowers Save money. The car dealerships are the same as the auto makers do products and after-sales service. Only when the end user is truly regarded as the god of the auto company, understanding the user's needs, satisfying the user's needs, and focusing on the user, can the enterprise be established. Good brand, reputation and image in the user's mind.
Pillow Block Bearing Units: Hebei Naimei Bearing Co., Ltd. produces kinds of pillow block bearings, which can be also called mounted bearings, housing bearings, inserted bearings. This type of bearing is used widely in machinery, equiment and agriculture. Pillow Block Bearing includes UCP Pillow Block Units, UCF Four-Bolt Flange Units, UCFL Two-Bolt Flange Units, KFL Series Zinc Alloy Housing Flange Units, etc. All are in good quality and of good price. Material can be changed as per request.
Pillow block, also know as a plumer block or bearing housing, is a pedestal used to provide support for a rotating shaft with the help of compatible bearings and various accessories. Housing material for pillow block is typically made of cast iron or cast steel.
The fundamental application is to mount bearings safely enabling their outer ring to be stationary while allowing rotation of the inner ring. The housing is bolted to a foundation through the holes in the base. Bearing housings are either split type or unsplit type. Split type housings are usually two piece housings where the cap and base can be detached, while certain series are one single piece housings. Various seals are provided to prevent dust and other contaminants from entering the housing. Thus the housing provides a clean environment for the expensive bearings to freely rotate, hence increasing their performance and duty cycle.
Application
paper machines, conveyor equipment, rotary kilns, drums, tube mills, converters, large electrical machines, rail vehicles
The mining, metallurgical, chemical industry, agriculture, transportation and other machinery
---Housing : FC series, P series, FL series ... ...
---Insert bearing : UC series, UR series, UE series
---Unit set:UCP series, UCPX series, UCF series, UCFA series, UCFH series, UCFC series, UCFX series, UCFG series, UCFS series, UCFL series, UKF series, UKF series, UKFL series, UKFX series, UCC series, UCT series.......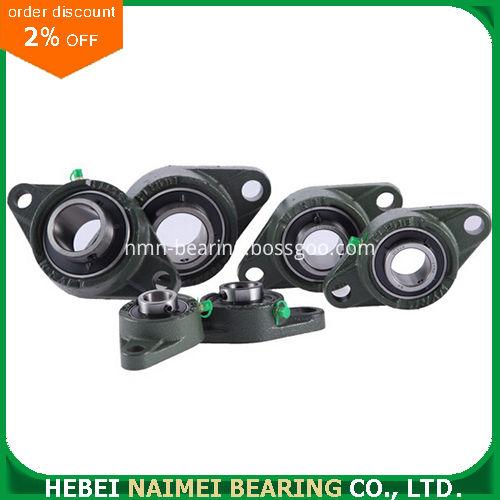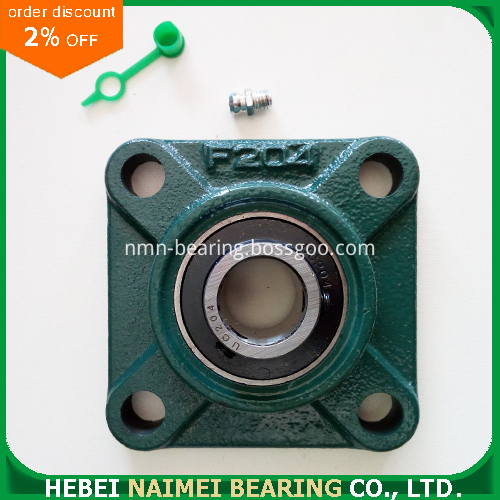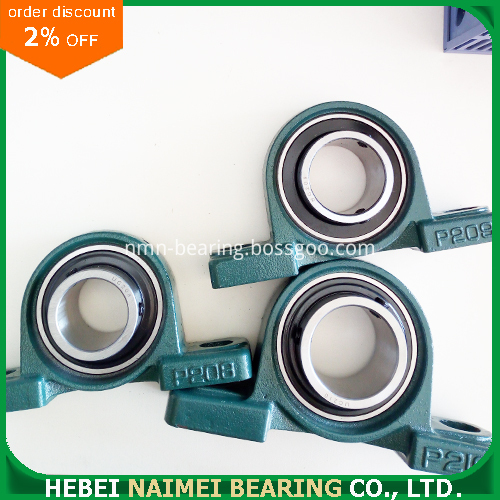 Pillow Block Bearing Units
Pillow Block Bearing Units,Pillow Block Ball Bearing,Square Pillow Block Bearing,Square Flange Bearing
Hebei Naimei Bearing Co., Ltd. , http://www.nmn-bearing.com